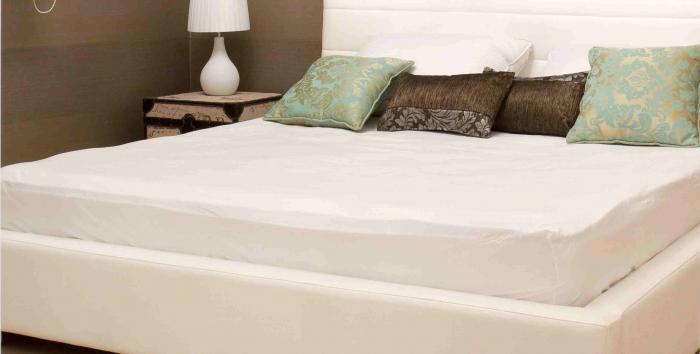 Sassnitz
Like our product Sellin, Sassnitz is a thin, elastic PES fabric with unilateral PU coating, but the upper side consists of a silken jersey and the bottom side is coated with PU.
The slip cover is liquid-, blood- and urine-impermeable, bacteria-proof (SVENKS standard), but is not wipe- and spray disinfectant.
The fabric is breathable and especially in the top-class hotel trade, it offers high lying comfort under perfect hygienic conditions.
Due to its elasticity it adapts perfectly and prevents creasing and disturbing noises ("rustling").
Sassnitz is also suitable as allergic protection from house dust mites, fungal infestation, … and deliberately does without PVC.
Therefore, slip covers can be boiled and thermally dried, but cannot be chlorinated.
The mattress cover prolongs the life of your mattress and hence, it is also a useful investment regarding economic aspects.
Quality:

100% PES silk jersey with unilateral PU coating

Sizes:

according to your requirements